Tenda A30 300Mbps 2T2R Wireless Range Extender
A3 is a mini 300Mbps 2T2R plug & play wireless range extender that allows users to easily create a new wireless network by connecting to a router or extend coverage of an existing wireless network without any installation. 300Mbps Wireless Mini Access Point, 1LAN/WANPort, 2X5dBi Fixed antenna.
Technical Specifications
Hardware Features
Standards
IEEE802.11n/g/b,IEEE802.3/3u
Band
2.4Ghz
Wireless Rate
300Mbps,2T2R
Interface & Speed
1* 10/100M auto-negotiation Ethernet port
Button
1*Reset
LED
STATE
Antenna
2*5 dBi fixed antennas
Power
9V==600mA
Dimensions (LxWxH,mm)
95*95.4*25 mm
Wireless Features
Basic Features
Channel
11 channels
Channel Width
20/40MHZ
IEEE802.11 Mode
11b, 11g, 11b/g, 11b/g/n
Transmit Power
b mode:
1,2,5.5,11Mbps : 17dbm, 1dbm
g mode:
6,9Mbps: 16dbm,precision:1dbm
12,18Mbps : 15.5dbm,precision:1dbm
24,36Mbps : 15dbm,precision:1dbm
48,54Mbps : 15dbm,precision:1dbm
n mode:(Single antenna, 20/40M)
MCS0,1_:7.2/15, 14.4/30 Mbps:16dbm,precision:1dbm
MCS2,3_:21.7/45, 28.9/60 Mbps:15.5dbm,precision:1dbm
MCS4,5_:43.3/90, 57.8/120 Mbps :15dbm,precision:1dbm
MCS6,7_:65/135, 72.2/150 Mbps :15dbm,precision:1dbm
Working Modes
AP,WDS
Wireless Security
WEP、WPA-PSK、WPA2-PSK、WPA-PSK/WPA2-PSK Mixed and MAC-based Wireless client filter
Others
Operating Enviroment
Operating Temperature
0℃ ~ 40℃
Storage Temperature
-30oC ~ 70oC
Operating Humidity
10% ~ 90% RH non-condensing
Storage Humidity
10% ~ 90% RH non-condensing
Minimum System Requirement
Computer with:
Internet Explorer 5.5 or Firefox 1.0
Network Adapter
Package Contents
One A30 300Mbps Wireless N Range Extender
One Power Adapter
One CD-ROM (User Manual included)
One Quick Installation Guide
Certificates
CE, RoHS, WEEE
Features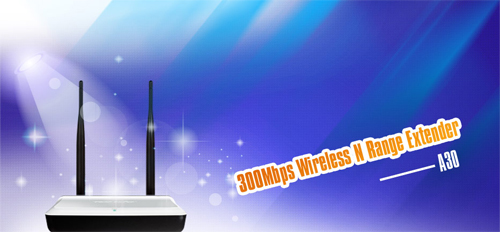 The Tenda A30 is a 300Mbps Wireless N Range Extender which is designed to extend the coverage and improve the signal strength of an existing wireless network. Combined with leading wireless N technologies, superior security and backward compatibility with wireless b/g, the A30 makes it a secure high speed solution that can help you keep an existing wireless network unchanged and vastly improve the network's coverage, giving you the freedom to roam anywhere in the house and access Internet without worrying about coverage.
The 802.11n standard is the new generation of wireless networking, delivering better speed, range and reliability to support bandwidth intensive applications. It supports data rates up to 300Mbps and is backward compatible with 802.11b/g equipments. The A30 can bridge wireless connections of up to 6 times the speed and 3 times the wireless coverage of an 802.11b / g network device.
The Tenda A30 is a handy tool that every business traveler cant live without. Whether the hotel you stay at is using wired or wireless internet, the A30 can let you share the connection wirelessly with your notebooks, smartphone, and tablet PCs using just one Internet account.
The Wireless Protected Access (WPA-PSK / WPA2-PSK) and Wired Equivalent Privacy (WEP) features enhance the level of transmission security and access control over Wireless LAN. The device also supports the Media Access Control (MAC) data communication protocol to prevent unauthorized access to the network.
There is no need to use software configuration, even for the most inexperienced computer users. It requires no networking knowledge to setup the connection. In just a few simple steps, you could be taken online immediately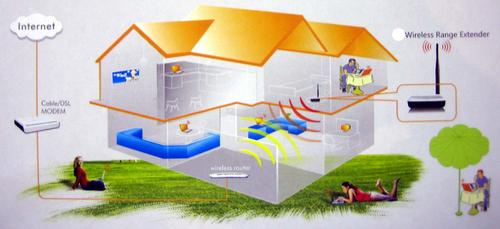 Highlights:
● 1x 10/100Mbps Ethernet port
● 2x 5dBi high-gain antennas for better coverage
● Compliant with IEEE 802.11n, IEEE 802.11g, and 802.11b standards
● High-speed data rates of up to 300Mbps with IEEE 802.11n
● Supports WPA-PSK/WPA2-PSK wireless encryption
● Supports Wi-Fi Multimedia (WMM) to smooth video and audio
● Supports WDS to seamlessly expand your wireless network